Kickin' It: August 2019 Wrap Up
Wednesday, September 04, 2019
August was so busy. I recently took on more responsibilities at work so getting into the swing of things threw me for a loop. Also, I applied for a grad program and have been patiently awaiting the results. It finally came a few days ago, I've been accepted into my top choice of grad program! I can't wait to start in January! As far as reading goes, I didn't get much done this month. I read a total of 8 books which is my lowest number read in the whole year. Though, I was able to find some good reads. Here's what I read:
The Lady Rogue
by
Jenn Bennett
(4 stars): Are you ready for a historical that reads like a contemporary? Jenn Bennett tried her hand at historical fantasy, a different genre than her previous contemporary romance books. However, the story was so entertaining and solid, the time period is easily overlooked.
The Lady Rogue
is such a fun adventure story with romance, mystery, and a little bit of magic!
Unrivaled
by
Alyson Noel
(3 stars): I had the sequel to
Unrivaled
all ready to go for when I was finished with this one. Until I started reading it, that is. One, there was the drama. And we're not taking great drama like
Crazy Rich Asians
great, we're talking unnecessary catty drama that's annoying and completely boring. Then there was the question of plot—which is to say, where was the actual story? There was a mystery which I was quite enjoying until it ended in the middle of that storyline and expects me to pick up the next book—uh, nope. Three stars is generous but Alyson Noel used to be an autobuy author for me and disappointment hits hard.
Pride
by
Ibi Zoboi
(3 stars): I adore retellings of
Pride and Prejudice
by Jane Austen. As much as
Pride
was a different retelling than I've ever seen before, it wasn't as strong as I was hoping. The diverse cast was remarkable and the discussion of gentrification was something this is not often brought up in YA. Yet, their romance didn't feel very genuine and there were a lot of times where the reader would have to fill in the blanks of what was being left unsaid in their communications. It was okay and I would definitely be open to reading more from Ibi Zoboi in the future.
Midnight in Austenland
by
Shannon Hale
(4 stars): This was such a lovely surprise! I went in to thinking this was a direct sequel to
Austenland
by Shannon Hale. Unfortunately, it is not. It's more of a companion that also takes place in Austenland, a Jane Austen theme park. There was a mystery in this and it was a bit of a shock to find that front and center instead of the romance that encompassed the first book.
The Bane Chronicles
by
Cassandra Clare, Sarah Rees Brennan,
and
Maureen Johnson
(3 stars): It was great to be back in the Shadowhunter world. I didn't know how much I was missing Alec and Magnus until I came upon a nice short story about them in this collection. Mind you, this short story collection is not all about Malac, primarily just Magus getting up to his little antics. With most short stories, I loved some and didn't like others.
We Hunt the Flame
by
Hasfah Faizal
(4 stars): This one started off agonizingly slow. Like, for most of the book I convinced myself it wouldn't get more than a 3. Ha! I proved myself wrong. The farther you get, the more elaborate the world becomes and the plot takes readers for a head spin. This fantasy got really good!
Rich People Problems
by
Kevin Kwan
(3 stars): Is it wrong of me to say that I'm kind of over the hype for
Crazy Rich Asians
? I loved the first book; I took it for what it was—a satire with loads of crazy drama. It was fun and lighthearted with a cute romance at the core. The second book got a little more serious, losing some of its satirical tone. And this one: the third and final book in the series doesn't even follow Rachel and Nick—it centers around the deathbed of the grandmother. Away was the satire that I loved so much in the first one, and with it, I was just over it.
The Bride Test
by
Helen Hoang
(4 stars): Swoon! Dare I say that I may like this one even better than
The Kiss Quotient
? It had entirely different elements, despite having much of the same framework. Though I did struggle with the end, where readers have to suspend their disbelief.
His Hideous Heart
edited by
Dahila Adler
(9/10/19): This is a short story collection of Edgar Allen Poe retellings. Don't worry if you don't remember everything he's ever wrote; the original works are in the book too!
Wayward Son
by
Rainbow Rowell
(9/24/19): The sequel we've all been waiting for. I was surprised how much I adored
Carry On
, when I read it. Though it seemed like a
Harry Potter
ripoff, Rowell created lovely characters (I'm looking at Simon and Baz!) that will stay with you forever.
American Royals
by
Katharine McGee
(9/3/19): A book seeped in drama about royals. Yes, please.
Where media was concerned, August was a slow month for me. We started the month off with a showing of
Hobbs and Shaw
. I was worried that you would have to watch all the Fast and Furious movies to enjoy this spinoff, yet that is not the case. The movie was a lot of fun and had me laughing at some ridiculous parts too! Then I felt super nostalgic when I went to see
Dora and the Lost City of Gold
. It wasn't the greatest movie but it was nice to see these characters come to life. Overall, a slow media month but a very busy work month.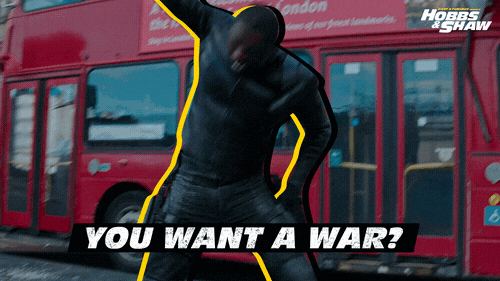 How was your August? Did you read any amazing books? Did you watch any fantastic TV shows/movies?