Follow Friday, Book Blogger Hop, and Book Blogger Tag Along (3/4/11)
Friday, March 04, 2011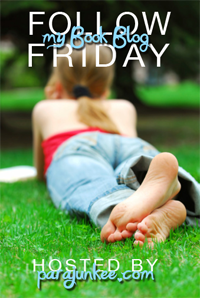 Follow Friday is a weekly meme hosted by Parajunkee over at her
blog
. This week's question is:
What embarrassing thing have you done on cold medicine?
Well, I wish I had some Nyquil-induced terror story to share with everyone, but alas, my cold medicine induced embarrassment was writing an amazing, and excellently written, poem about a broken mirror. Though I've tried, I cannot reproduce such art without a non-drowsy decongestant. My creative abilities are again smothered!
Jennifer at
Crazy-for-Books
hosts a weekly meme highlighting our craze for books! Here's her weekly inquiry:
Who's your all-time favorite book villain?
My all-time favorite book villainis Artemis from Sherrilyn Kenyon's Dark-Hunter book series. She's always trying to thwart Acheron's plans and keep all the Dark-Hunter's souls for herself. Plus, she never gets phrases and colloquialisms right. Silly, vengeful goddess! Or as Simi would say, "that heifer goddess!"
The 18 & Over Book Blogger Tag Along was created by Laurie over at
Bitten by Paranormal Romance
. Her weekly questionnaire is:
How many books do you read in a month?
I can't actually say that I count! There was a bet going between a friend and I to see who could read more books, but it fell through pretty soon. I didn't get all too far. I'm not too reliable for reading a preset number of books in a time period, but it's rather that I read as much as I can while also balancing school work and everything else that's going on.
Happy readings!