Incredible Retelling of The Hunchback of Notre Dame | Night Spinner by Addie Thorley
Friday, May 22, 2020
Night Spinner by Addie Thorley
Publisher: Page Street Kids
Publication Date: 2/11/20
Pages: 391
Source: publisher in exchange for an honest review (Thank you, Page Street Kids!)
Before the massacre at Nariin, Enebish was one of the greatest warriors in the Sky King's Imperial Army: a rare and dangerous Night Spinner, blessed with the ability to control the threads of darkness. Now, she is known as Enebish the Destroyer―a monster and murderer, banished to a monastery for losing control of her power and annihilating a merchant caravan. Guilt stricken and scarred, Enebish tries to be grateful for her sanctuary, until her adoptive sister, Imperial Army commander Ghoa, returns from the war front with a tantalizing offer. If Enebish can capture the notorious criminal, Temujin, whose band of rebels has been seizing army supply wagons, not only will her crimes be pardoned, she will be reinstated as a warrior. Enebish eagerly accepts. But as she hunts Temujin across the tundra, she discovers the tides of war have shifted, and the supplies he's stealing are the only thing keeping thousands of shepherds from starving. Torn between duty and conscience, Enebish must decide whether to put her trust in the charismatic rebel or her beloved sister. No matter who she chooses, an even greater enemy is advancing, ready to bring the empire to its knees.
Two years ago, the famed Enebish the Destroyer was exiled from her home after killing innocent merchants in the war effort. Her half-sister, Ghoa, persuaded the king to allow Enebish to live the rest of her days, comfortable, in a countryside monastery. However, when it seems that the country is losing the war, Ghoa returns with a proposition for Enebish. She must go undercover to unmask a Robin Hood-esque troop, and only then can her title as warrior be reinstated. In this gorgeous retelling of
The Hunchback of Notre Dame
,
Night Spinner
by Addie Thorley whisks readers into an intriguing world of twists and turns.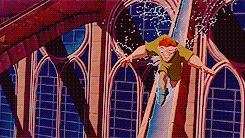 It wasn't hard to get swept up into these characters' lives. Their emotions seem so close on the page that it was already 20 pages in and I was ready to cry along with them.
When reading, I tend to gravitate toward interesting sibling relationships, whether close or estranged. Night Spinner follows two half-sisters, Enebish and Ghoa, who were inseparable in the past but circumstance has deeply changed that. Enebish is in exile while Ghoa still ranks as a commander for the king. The power dynamic that these two have is astounding, making for some riveting scenes. The sisterly bond, however tainted, here is almost tangible.
Night Spinner is inspired by the classic tale, The Hunchback of Notre Dame. I have not read The Hunchback of Notre Dame by Victor Hugo so I cannot attest to its similarities though the Disney movie is one of my favorites. Even though I'm not familiar with the original work, I still appreciate Thorley's fantastic work that brings such an underrated tale to life.
Enebish is quiet and reserved, certain traits that she accumulated while living at the monastery. Yet, there is a fire within her. And even though she herself saw this fire as a monster at first, the journey to self-acceptance is truly lovely.
The action sequences are incredibly well constructed throughout the plot. More than half the book reads as a war novel so there's quite bit of strategy discussion and politics. Books that take place during wars, that deal with such elements like politics and war strategy usually isn't something I like, but with Night Spinner, Enebish's journey of accepting her magic and gaining her confidence made me push through the grit of war to reach the character development underneath.
Night Spinner will leave you on the edge of your seat. Thorley writes these cast of characters in such a way that at multiple points in the book, you will never know who to trust. As much as Enebish was fast to trust everyone in the beginning of the book, she quickly becomes wary of everyone. There were moments where I was sure she was on the right path with one group only to be turned around in the next scene and start rooting for another group.
Thorley's writing is compelling and urges readers onwards. The world building is absolutely superb! Instead of dumping all the world information on you at once, she shares the history through her characters' dialogue. Most of the past is cleverly shared through Enebish's anecdotes. Also, since Enebish has been in exile for quite some time, Thorley shares information about the world (its politics, history, and more) with the protagonist as well—so as we learn about the world, Enebish is also seeing it for the first time.
The ending reads as a new beginning, swiftly ready for the continuation that readers will receive in the sequel. It makes the series easy to binge if you have the second book on hand. Alas, I'll have to wait until the sequel releases to find out what happens next. Night Spinner leaves readers with tons of questions that I hope will be answered in the sequel. The sequel, Sky Breaker, releases in May 2021 (

according to Goodreads

).
Night Spinner
by Addie Thorley is an incredible retelling of
The Hunchback of Notre Dame
that will take readers on a wild ride. Despite an open-ended conclusion, readers will be clamoring to read the sequel as soon as they finish this one.