Kickin' It: January 2020 Wrap Up
Monday, February 03, 2020
Kickin' It
is a feature at The Bucket List where I round-up the whole month in one post, bringing you reviews you may have missed, other awesome bookish things, and even what I'm currently obsessed with in other media besides books. January was such a busy month and if that was an indicator of how the rest of the year is going to be, I'm barely going to have any time to blog. I kind of took a little break in the middle of January. I started grad school this month and even though I'm only taking four classes, they've been taking up most of my time. Anyway, despite all that, I did manage to read 11 books. My brother got me a scratch-off poster of classics you need to read before you die and I spent a lot of this month reading some classics from the list. Here's what I read:
Strange the Dreamer
by
Laini Taylor
(3 stars): This book was one of those that I meant to read last year and never got around to it. I finally read it and I'm quite disappointed that I will not be continuing in the duology.
There's Something About Sweetie
by
Sandhya Menon
(5 stars): After the reading month I was having (the curse of the 3 stars!), this was such a breath of fresh air. Sandhya Menon's work never fails to make me smile. The Dimple and Rishi series is so wholesome and lovely. There's a third book coming out this year and I can't wait!
Instinct for Graduates
by
T.D. Jakes
(3 stars): There were some good tips for graduates in this but most of it was common sense.
The Alchemist
by
Paulo Coelho
(3.5 stars): I liked this one! It read like a self-help book between a whimsical adventure. It was cute and held quite a bit to unpack. The prose did take some getting used to as it was shorter and more abrupt sentences. This may have to do with it being translated to English but I'm not sure.
Switched
by
Amanda Hocking
(4 stars): I own many Amanda Hocking books and have never read any. I chose this one out of my tbr jar. It had a lot of tropes but I enjoyed it. Plus, did you know this book is about trolls? Hocking takes on a whole new perspective on these creatures.
Love with a Chance of Drowning
by
Torre DeRouche
(3 stars): I adore reading travel memoirs so I was excited to get to this one. I didn't know this one was primarily a sailing memoir which isn't really my thing. However, Torre's story was interesting and definitely worth reading!
Fall of Night
by
Rachel Caine
(4 stars): From a Morganville Vampire series standpoint, this book was one of the slower ones.
Fall of Night
is the 14th book in the series. I don't think much happened but that ending was phenomenal. It's hard to believe the next book,
Daylighters
, will be the last in the series.
Waste-Free Kitchen Handbook
by
Dana Gunders
(3 stars): I've been reading this one for months. I would read a chapter or two and then forget about it. There was some good tips on storing food and limiting waste in the kitchen.
Three Cups of Tea
by
Greg Mortenson
(3 stars): I was intrigued at the premise of this memoir going in. However, the book was primarily written by David Oliver Relin and seemed like a study of how great his friend, Greg, is. It wasn't my favorite.
The Adventures of Tom Sawyer
by
Mark Twain
(3 stars): I don't know anyone who's read this one, not even for school, so I was intrigued going in because I didn't know what to expect. Tom is a bit of a troublemaker. It did remind me of some of the classics I read in high school. And for me, it was just okay.
Frankenstein
by
Mary Shelley
(3 stars): I understand that
Frankenstein
was one of those books that birthed the horror genre to what it is today and there were some aspects that I liked. Yet, overall, the book was a bit slow and just not for me.
Night Spinner
by
Addie Thorley
(2/11): A retelling of
The Hunchback of Notre Dame
; need I say more?
The Upside of Falling
by
Alex Light
(2/18): I love a good fake dating debacle. Becca is sick of her friends pestering her about not having a boyfriend so she makes one up. Brett having heard about Becca's lie, decides to swoop in and pretend to be her boyfriend. However, fake dating is hard, especially when you barely know the other person.
Honor Lost
by
Rachel Caine
and
Ann Aguirre
(2/11): I rarely read science fiction; it's just not for me. However, I read
Honor Among Thieves
when it first released and the unique friendship group is what drew me to read the sequel. And so here I am for the third and final(?) book in The Honors series.
With grad school starting up, I didn't have much time to go to the movies this month. I was able to catch a showing of
Dark Waters
, a movie my dad desperately wanted to see because it was about a dairy farmer and he was familiar with the case. Dark Waters stars Mark Ruffalo as he embarks on a legal case from a farmer's plea that a big chemical company is poisoning his cows. It was slow which was to be expected, but it was based on a true story that was both moving and, at times, hard to watch. Other than that, I was excited to see that
Prodigal Son
came back from their winter break. As well as
Impractical Jokers
is back for another season (and their movie releases in February- I'm not sure if I'm going to see it yet). All in all, a fine media month and here's to hoping next month is even better!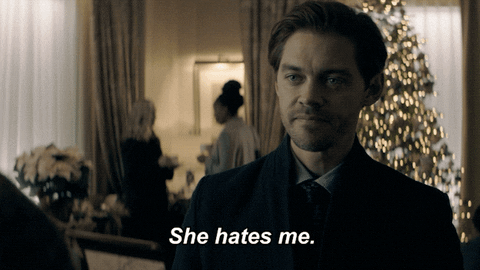 How was your January? What books did you read? Did you watch any amazing movies/shows?