Kickin' It: September 2019 Wrap Up
Friday, October 04, 2019
September was such a fantastic month! Not only was it my birthday month, but it was also Contemporary-a-thon at the end of the month. I was low-key participating at first but quickly realized that I must have picked some good books since I was finishing a lot of them so fast. I'm very much a homebody but I was busy almost every weekend. I went to an antique car show, the Renaissance Faire, and out to eat a few times too. In total, I was able to read 15 books this month. Here's what I read:
The Bookish Life of Nina Hill
by
Abbi Waxman
(4 stars): This one was so adorable. Nina Hill is my spirit animal—we're almost the same person. I was expecting a romance but the romance is on the back burner in this one. It's a lovely story of an introverted woman in an unexpected family.
The Hating Game
by
Sally Thorne
(5 stars): Love, love, love this one! I couldn't stop thinking about it. As soon as I finished the book, I spent the next day just reading my favorite parts again in order to quench my raging book hangover. It was amazing! I don't reread books very often but this one will likely get a reread at some point; it was just that good.
Meet Cute
by
Helena Hunting
(3.5 stars): I'm disappointed in this one. The cute cover is deceiving since I went into this one expected a romance and really didn't get much of one. The book focuses on a custody battle for a recently orphaned child between her brother and her aunt. The characters were unfortunately flat. Readers were supposed to believe the two love interests had all this chemistry from the past without ever showing it. Ugh, just not for me.
Mansfield Park
by
Jane Austen
(3.5 stars): I love the film adaptation so I thought it was finally time to read the book it was adapted from. And, to be honest, I'm a bit disappointed. The movie glazes over the fact that this is a "romance" between two first cousins—a fact difficult to miss in the book when they call each other "cousin" in their dialogue. Also, the ending felt entirely rushed like Austen was unsure how to end it so she wrote a few paragraphs to be done with it. Not my favorite Austen novel to be sure.
Redeemed
by
P.C. Cast
and
Kristin Cast
(3 stars): Finally, I have come to the end of the House of Night series. It was a solid end for a series that went on farther than it needed to be.
Saving Zoe
by
Alyson Noel
(2.5 stars): I am done with Alyson Noel's contemporaries. I still have her paranormal series, The Soul Seekers, to try out. This book was the second book I've read this year where an older sister dies so in order to grieve the younger sister goes after the older sister's boyfriend. I understand that it does happen but I just don't want to read about it. So, nope, moving on.
The Forgotten Book
by
Mecthild Glaser
(3.5 stars): I've been meaning to pick up a Glaser book for a while. Unbeknownst to me,
The Forgotten Book
is a retelling of
Pride and Prejudice
with a twist: after finding an abandoned diary, she finds that when she writes in it, her words come to life. I loved the
Pride and Prejudice
aspect. It may have been the translation (this was translated from German), but the pacing and some word choices seemed a bit odd. Overall, a good book—I'll definitely be reading more of Glaser in the future.
An Enchantment of Ravens
by
Margaret Rogerson
(3.5 stars): Sadly, I don't think I'll be reading Rogerson in the future. As much as I enjoyed the book, there just didn't seem to have enough substance for me to want to continue. Everything felt a bit rushed and it's such a short book that I suppose it's understandable. At times, I felt very confused at some of the world building. And for the most part, I had to just go with the flow and take things in stride because it is too short of a book to be lost at any point.
Gravemaidens
by
Kelly Coon
(5 stars): Another one I gave many heart eyes to. This is such a phenomenal fantasy! The twists and turns kept me on my toes. There's an unexpected mystery at the heart of this and I was living for it. Kelly Coon's writing was captivating and immersive. I can't wait for the sequel.
Prince Charming
by
Rachel Hawkins
(4 stars): A lovely romance set in Scotland between a royal and an average girl. This is my kind of book. I didn't love Hawkins' writing in
Hex Hall
but adored it here. The back and forth banter was the icing on the cake of what already was a great romance!
Field Notes on Love
by
Jennifer E. Smith
(4 stars): I haven't loved a book of Smith's since I read her book,
The Statistical Probability of Love at First Sight
. Yet, I've read almost all of her books and it was such a surprise to find something in this one that brought me back to
Love at First Sight
.
Field Notes
has a lot of elements I adore: a traveling abroad romance, strong familial relationships, and filmmaking.
Red, White, and Royal Blue
by
Casey McQuiston
(4 stars): I'm completely blown away by this one. It was lovely and moving and can I just read it again? The romance is calculating. The sexual tension is tangible. This book is everything I've ever wanted in a romance. The ending was absolute perfection.
Fix Her Up
by
Tessa Bailey
(4.5 stars): This was a bit steamy than all the other romances I read this month. I enjoyed it; it was a cute story. The main character really shines. I could do without the hundred times he called her "baby girl" though.
Dorothy Must Die
by
Danielle Paige
(5 stars): I was so surprised how amazing this one was. Like, why did I wait so long to read it? It takes on a whole new angle of
The Wizard of Oz
, a look into what happens after the story we all know. I'm looking forward to reading the rest of the series.
The Diviners
by
Libba Bray
(4 stars): Another book I'm chastising myself for not reading sooner. I adore Libba Bray's writing but this series of hers always looked so daunting. The audiobook is a real gem. If you've been on the fence about reading this one, definitely pick up the audiobook, it's fantastic!
The Beautiful
by
Renee Ahdieh
(10/8/19): Despite some early disappointed reviews, I'm still interested to see what Ahdieh's new book is all about. I'm ready for some vampires!
Ninth House
by
Leigh Bardugo
(10/8/19): I'm on the fence about this one. I adore Leigh Bardugo and her writing it always magnificent. However, the vague premise of a college student who gets caught up in an on-campus cult, makes me think this isn't a book for me. But who knows, maybe I'll give it a try and absolutely love it.
Royal Holiday
by
Jasmine Guillory
(10/1/19): According to Goodreads, this is the fourth in the Wedding Date series. I'm unsure if you have to read them in order. Since, I've only read
The Wedding Date
, I suppose I'll have to catch up.
Despite going out with friends and family quite a bit, we didn't see any movies in the theater this month. When I wasn't reading, I was trying to sneak in an episode of
Dark
—I'm on season 2 and am loving it so far. I also caught the end of
America's Got Talent
. And just in time for my birthday,
Buzzfeed's Unsolved
series returned once again.
9-1-1
came back on the air and let me tell you, the stakes are high in the season. And
Prodigal Son
premiered a week or two ago and looks promising. It reminds me a lot of
I Hunt Killers
by Barry Lyga. Overall, a good TV month!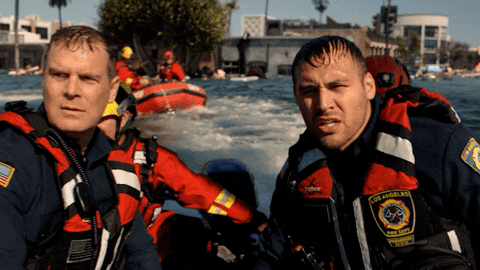 How was your September? Did you read any amazing books? Did you watch any fantastic shows/movies?