Whimsical, Dramatic, and Downright Amazing | Romanov by Nadine Brandes
Friday, July 12, 2019
Romanov by Nadine Brandes
Publisher: HarperCollins
Publication Date: 5/7/19
Pages: 337
Source: purchased
The history books say I died. They don't know the half of it. Anastasia "Nastya" Romanov was given a single mission: to smuggle an ancient spell into her suitcase on her way to exile in Siberia. It might be her family's only salvation. But the leader of the Bolshevik army is after them, and he's hunted Romanov before. Nastya's only chances of saving herself and her family are to either release the spell and deal with the consequences, or enlist help from Zash, the handsome soldier who doesn't act like the average Bolshevik. Nastya has only dabbled in magic, but it doesn't frighten her half as much as her growing attraction to Zash. She likes him. She thinks he might even like her. That is, until she's on one side of a firing squad . . . and he's on the other.
The Romanovs are in exile, forced out of their castle and into hiding. Nastya hopes one day soon, they will escape to live near the countryside in peace. However, hope is dwindling. The family is running out of the medicine in which to relieve Alexei's pain. Ever since magic was banned, it's been difficult to get a hold of. Nastya tries her best to be there for her family, even when their world is turned inside out. Nadine Brandes crafted such a gorgeous, magical retelling of Anastasia that is sure to become your next favorite.
Nastya is a strong willed, incredible character. Romanov is told in first person perspective which lets readers in on Nastya's inner thoughts and feelings. She's adventurous which is shown through the amount of mischief she is able to get into even during exile. The setting of Romanov primarily takes place while the royal family is cooped up in a house together. Nastya's mischief and little games are able to lighten the mood at times. Romanov, however, is a heavy novel.
I always tell myself that I need to read more fantasy because every time I do, the book turns out to be fantastic. Romanov is no exception. It wasn't exactly what I expected. The book tells the story of the Romanov family as it was in actual history with a hint of magic. If you're looking for a retelling of Anastasia, the animated film—with the quest of a lost grandmother, a romance between a princess and a kitchen boy, and an evil master of the magical arts—Romanov is not that book.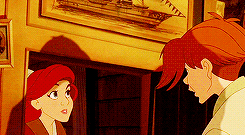 This is the first book I've read by Brandes. You can bet I will be reading Fawkes, her other book, soon. Her writing is whimsical, dramatic, and downright amazing. She morphed the story of the Romanov family from history and turned it into something unique. It was a masterful take on the story.
Romanov is so compelling. It wasn't a page in and I was already hooked, demanding to know how Nastya was going to get out of this mess she found herself in. However, I must admit that the plot doesn't progress much. It relies on routine and small moments of Nastya's life to carry the story forward. This is more of a character-driven plot than an action-packed one. And as much as I love my action-packed plots, Romanov is a story filled with magic, secrets, and spies that is still able to keep readers on their toes. Despite the plot being a bit slow, it was slow in the best way possible.
The Romanov family are incredibly close. Their family dynamic remained a light in the darkness. When all seemed lost, they could still look to each other for hope. It was great to see one character lift up the others and vice versa. Nastya has several sisters and one brother. Brandes only gives us small glimpses of the older sisters, while the brother, Alexei, and the younger sister, Maria, are more prominent in the story. Also, the bond Nastya shares with her father is so sweet. Familial relations like this are rarely seen in YA today so I definitely cherished those moments in Romanov.
Maria needs a spinoff. Her romance was so riveting and enchanting. And as much as I loved Nastya and her strategic mind, I wouldn't mind if Brandes gives us more on what Maria was thinking during her time in exile.
Since the family was in exile, there were several guards that watched them around the clock. My favorite, of course, was Zash. I only wished we got more of his thoughts as well. His story was intriguing, as he seemed to be at war with himself for most of the book. Brandes explored some fantastic feelings, tackling Stockholm Syndrome and even the captors becoming sympathetic to their prisoners. The dynamic was complex and seemed to increase the stakes tenfold.
The stakes are high in Romanov. The royal family is put under arrest, essentially in exile, where just the act of breathing too loudly is an indiscretion. The pace may be slow but the high stakes and terrifying ante is sure to get readers' blood pumping.
The light use of magic was great. I adore magic in books but it doesn't always need to be a magic boarding school, complete with magic wands every time. Romanov delivered a small dose of magic, giving us just enough to take Brandes' world to the next level. It was truly superb!
Overall, Romanov by Nadine Brandes was heavy, yet beautiful. Brandes weaves history with magic that brings a compelling story to light. It was masterfully written and I can't wait to read more from her in the future.