Kickin' It: May 2019 Wrap Up
Friday, May 31, 2019
Kickin' It
is a feature at The Bucket List where I round-up the whole month in one post, bringing you reviews you may have missed, other awesome bookish things, and even what I'm currently obsessed with in other media besides books. May was okay. Actually, in life terms, it was a pretty meh month. I had all four of my wisdom teeth taken out and despite having people tell you how relaxing it'll be because you get to eat ice cream for a whole week, it was brutal. Plus, I didn't read for that whole week—basically I just slept a lot. In reading terms, May was great in quantity but just okay in quality. Here's what I read in May:
The Way You Make Me Feel
by
Maurene Goo
(4 stars): At first, I wasn't sure if I was going to like this because Clara, the protagonist, is a class clown and tends to take things too far. However with the wonderful character arc, the food truck competition, and the great writing,
The Way You Make Me Feel
brought some amazing summer vibes. I loved it!
Great Expectations
by
Charles Dickens
(3 stars): I finally got to a classic! Every year, I make it a goal to finish a few classics by the end of the year.
Great Expectations
was fine. I'm happy I finally read it and it was by far better than
The Mystery of Edwin Drood
.
From Twinkle, With Love
by
Sandhya Menon
(3.5 stars): I went in expecting to love it as much as I did with
When Dimple Met Rishi
but I didn't. First, I adored the format which is told in journal/letter style to Twinkle's favorite film directors. Yet, Twinkle didn't see the error of her ways until almost never. Although realistic and unexpected, it just wasn't what I wanted at the time.
Stepsister
by
Jennifer Donnelly
(3 stars): Here I was expecting a dark reimagining of what happened after Cinderella becomes a princess.
Stepsister
follows the ugly stepsisters. And its borderline middle grade tone took away most of the darkness. The book went for a much lighter, whimsical tale which is not what I expected.
The Essential Pantry
by
Maggie Green
(3 stars): The concept of this cookbook is what truly caught my eye. Green lists things that are essential to keep in your pantry and then gives several recipes that utilizes items found in that pantry. The recipes were simple and basic, nothing unique.
A Thousand Beginnings and Endings
edited by
Ellen Oh
and
Elsie Chapman
(3 stars): This was the group book for the
Asian Readathon
that took place this month. It's a short story collection based on Asian folklore and myths. As with most short stories I read, some of them were amazing and easily were 5 stars where others were just okay.
Maybe Someday
by
Colleen Hoover
(4 stars): My first Colleen Hoover book and I loved it! Something that really blew me away was how Hoover worked with a real-life singer to bring the lyrics written in the book to life. Readers can listen to the music from the book; how cool is that?
Never Have I Ever: My Life (So Far) Without a Date
by
Katie Heaney
(3 stars): Another just okay book. It was a quick, fast read. The writing was funny and snarky, at times. But for some reason, I couldn't get into it.
Death Comes to Pemberley
by
P. D. James
(3 stars): I'm happy I read this, having had it on my shelf forever. So now I can finally watch the TV show. However, I don't think the mystery held much weight. In fact there was little mystery conducted as everyone just assumed that the one obvious suspect was to blame. Ugh.
Fullmetal Alchemist (3-in-1 Edition), Vol. 6
by
Hiromu Arakawa
(4 stars): I'm slowly making my way through the series. It's great! These characters, the brothers' relationship, the huge cast, and the writing makes every one of these a page turner.
Serious Moonlight
by
Jenn Bennett
(4 stars): The story hooks readers to the end and beyond.
Serious Moonlight
was a fun story filled with intricate characters, a detailed setting, and an unpredictable mystery. I will definitely be reading more from Bennett in the future.
The Domestic Geek's Meals Made Easy
by
Sara Lynn Cauchon
(4 stars): I follow
The Domestic Geek
on Youtube where Cauchon creates wonderful, healthy dishes. It was a good cookbook and I can't wait to try some of her recipes. Plus, the beautiful pictures throughout make my mouth water.
Ghosts of the Shadow Market
by
Cassandra Clare
(6/4/19): Take all my money. I may not have read the latest books from her but you can bet that they will be waiting for me on my shelf.
Teeth in the Mist
by
Dawn Kurtagich
(6/11/19): I know very little about this one but going in to Kurtagich's work knowing little is the best way to go about it. There's an unholy pact that bring together three woman from different time periods. It's going to be creepy and if it's anything like her first two books,
The Dead House
and
And the Trees Crept In
, it will be fantastic!
Hungry Hearts: 13 Tales of Food & Love
edited by
Elsie Chapman
and
Caroline Tung Richmond
(6/18/19): This one sounds so great; it's making me hungry just thinking about it.
Hungry Hearts
is a short story collection that revolves around food and culture. Delicious!
After marathoning all those Marvel movies last month for the release of
Avengers: End Game
, I took a short break on all the movie watching for a bit. I've been working my way through
Black Mirror Season 4
. I didn't realize there was going to be a 5th season and the release is next month! It's a great show and as much as I don't think season 4 is particularly strong, it's still quite entertaining. Also, I had promised my dad that I would go with him to see
John Wick 3
(never having before seen the first or second in the series). It was literal non-stop action with minimal storyline which is not for me. To balance that out, I saw
Aladdin
which was great!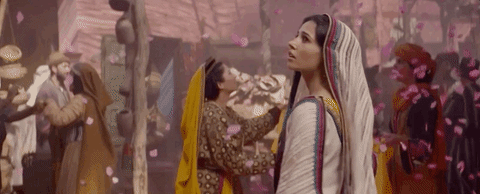 How was your May? Did you read any amazing books? Did you watch any fantastic shows/movies?