Kickin' It: September 2018 Wrap Up
Wednesday, October 03, 2018
Kickin' It
is a feature at The Bucket List where I round-up the whole month in one post, bringing you reviews you may have missed, other awesome bookish things, and even what I'm currently obsessed with in other media besides books. I've been slaying my reading goals lately. Due to a six week long course in June and July, I was in danger of getting behind. And August and September was where I turned all that around. I finished 13 books this month which is a number I'm so happy with. I, also, participated in my second-ever readathon, Contemporary-a-thon (I talk about that more in my
tbr post
) and read some good books for that. Also, this is the first month since trying to tackle my tbr by reading my oldest haul and it was partly a success. Let's take a look:
This is my haul from April 2010 and I am glad to report that I will not be unhauling any of these. I read
Perfect You
by
Elizabeth Scott
(2 stars) for the Contemporary-a-thon. It didn't impress me and I thought the protagonist whined a bit too much and the romance was lackluster. I own several more books by Elizabeth Scott and, hopefully, they are a bit better than this one. I read
Betrayals
by
Lili St. Crow
(3 stars) early on in the month. It reminded me how much I miss reading supernatural stories. I started
Dark Visions
by
L.J. Smith
and am about a third of the way through the first book of three. I'm enjoying it so far and if all goes well, it will show up again in my October wrap up.
For the contemporary-a-thon, I read 7 books in 7 days! Including Perfect You by Elizabeth Scott, I also read
China Rich Girlfriend
by
Kevin Kwan
(3.5 stars). I don't think it was as good as the first book in the series. This one didn't really have much of a focus and it didn't have the drama that I came to expect from the first one.
All the Bright Places
by
Jennifer Niven
(4 stars) was heartbreaking and not the kind of book you should read for a readathon-- I cried the whole day afterwards. I'm not a fan of thrillers but have always wanted to read
The Girl with the Dragon Tattoo
by
Stieg Larsson
(3 stars). I felt like there was a a very slow build-up to a 5-page action scene. It was good but not my favorite. However, I will be continuing on in the series. And
My So-Called Bollywood Life
by
Nisha Sharma
(5 stars) was such a great book to start off the readathon. It was fun and everything about it was so adorable!
The last two I read for the contemporary-a-thon was
Paris for One and Other Stories
by
Jojo Moyes
(3 stars) and
Just Like the Movies
by
Kelly Fiore
(4 stars). I would have given Moyes a higher rating if the book had only been Paris for One. The other stories in the collection were just not as good. Just Like the Movies was a cute contemporary that would have been perfect to read during summer.
Hearts Unbroken
by
Cynthia Leitich Smith
(3 stars) releases in October. I love Smith's Tantalize series so I had the highest expectations for this one and they fell a bit short. However, I did appreciate the Native teen voice that we rarely see in YA.
When We Caught Fire
by
Anna Godbersen
(5 stars), also, releases in October and it was such a treat. Everything Godbersen has created quickly becomes favorites and this one was no exception.
In my 2018 reading goals, I wanted to work on reading more classics. I was able to finish
Sense and Sensibility
by
Jane Austen
(4 stars) this month which was good. I loved the look at the sister relationship but I found almost every male character in the book to be unlikable.
The Dashwood Sisters Tell All
by
Beth Pattillo
(3 stars) is the last in the Jane Austen Legacy series. It's a retelling of Sense and Sensibility and it was a cute, modern take on the classic.
Nightingale
by
Amy Lukavics
(4 stars) kicked off my creepy reads for the fall months. It leaned a bit more towards science fiction than the horror I was expected but was still entertaining. Overall, an amazing reading month!
I was super busy this month. I had an amazing reading month. And it was my birthday month so I was out being social instead of watching television and movies. However, I did rent
Adrift
from my local library. It's hard to believe such an event was true but a woman was alone at sea for 41 days until rescue. It was an incredible movie with fantastic performances. Also, I started watching season 4 of Jane the Virgin on Netflix. So far, I'm loving it!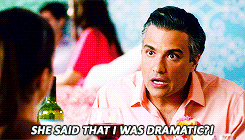 How was your September? What books did you read? Did you watch any movies/shows?