5 Essentials to Participate in a Book Discussion (+ An Announcement)
Thursday, January 25, 2018
The Bucket List Hosts Its 4th Annual Book Discussion
I am so excited for this announcement. It's been approximately 4 years since The Bucket List has hosted a site-wide book discussion. And I'm finally ready to bring it back!
I know you're probably jumping up and down with tons of questions. Let me answer them for you:
How does The Bucket List conduct a book discussion?
I'm so glad you asked! Just like previous years, I had you choose which book you wanted to discuss. Then when the book is announced (stay tuned!), a schedule of the discussion is posted soon after. In book discussions, we read two to three chapters a week. Each week, there will be a small recap of the chapters (with some hilarious commentary) and a few questions to get a comment party started. In addition to that, The Bucket List also hosts an amazing giveaway of the book in question and other goodies! Plus, sometimes, the author of the book even gets involved! This year, I hope to add some things to the discussion so people on Twitter and Instagram can get involved too. It's going to be one big party and you're invited!
If you want to know more, check out the previous book discussions:
What book will you be discussing this year?
And the results are in! I am so happy to announce that for this year's book discussion, our book will be:
A Darker Shade of Magic by V.E. Schwab
Publisher: Tor Books
Publication Date: 2/24/15
Pages: 400
Kell is one of the last Antari—magicians with a rare, coveted ability to travel between parallel Londons; Red, Grey, White, and, once upon a time, Black.
Kell was raised in Arnes—Red London—and officially serves the Maresh Empire as an ambassador, traveling between the frequent bloody regime changes in White London and the court of George III in the dullest of Londons, the one without any magic left to see.
Unofficially, Kell is a smuggler, servicing people willing to pay for even the smallest glimpses of a world they'll never see. It's a defiant hobby with dangerous consequences, which Kell is now seeing firsthand.
After an exchange goes awry, Kell escapes to Grey London and runs into Delilah Bard, a cut-purse with lofty aspirations. She first robs him, then saves him from a deadly enemy, and finally forces Kell to spirit her to another world for a proper adventure.
Now perilous magic is afoot, and treachery lurks at every turn. To save all of the worlds, they'll first need to stay alive.
How can I get involved?
The book discussion will begin in March or April. During that time, read along with us and discuss the book in the comments section each week. If you absolutely adore the book and can't fit everything you want to say in the comments, there are several opportunities to write a guest post about your thoughts on the book. If you're interested in guest posting, contact me at bucketlist.gina(at)yahoo(dot)com
5 Essentials to Participate in a Book Discussion
Who's excited for the 2018 Book Discussion? It's definitely going to be lots of fun! To get ready for the discussion, there's just a few things you may need.
Book
What's a book discussion without the book you'll be discussing? Make sure to grab a copy and start reading to join in on each week's discussion.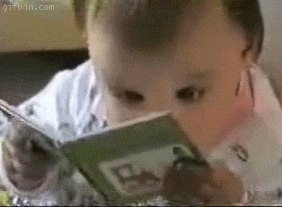 Mobile Device
Look at you, you already have this one! If you're reading this right now, I would say you definitely have a mobile device to keep up on each week's book discussion post.
Pen and Paper
Don't you hate it when you have a thought about what you're reading and you can't find your pen anywhere? Keep those things at the ready. With a book discussion, you never know when a new thought about the book may come to you.
Tissues (Just in Case)
Some books just give you way too many feels.
Do Not Disturb Sign
Frankly, these signs rarely work. Most people will just bypass the sign and come right in without permission. But, really, no one should dare interrupting you when you're reading your book. Make sure to give everyone the heads up you're participating in a book discussion so you can have some time to read the book in peace.
Are you excited for the book discussion? Have you read A Darker Shade of Magic by V.E. Schwab?