10 Items I Need in my Dream Library
Thursday, September 14, 2017
When Pinterest was first becoming popular, I noticed a lot of people planning out their dream weddings. However, I was never into picking out the cutest venue or the best color scheme. For me, Pinterest was for planning my dream library.


When I get my own place, I will definitely be choosing the apartment on if it includes a room to build my dream library. I've put a lot of time and thought into what my library will look like. I've even sketched it for you though it is a work in progress. It will be gorgeous! Besides books (because, of course, my library will include tons of them!), here are 10 things my dream library will include:
Floor to ceiling bookshelves
I wouldn't mind built-in floor to ceiling bookshelves but
these shelves from Ikea
will work perfectly. I'm going for a modern but comfortable sort of look. Also, if I have tall ceilings, I will be sure to get a sliding ladder. I could feel like Belle from Beauty and the Beast every time I go to my shelves.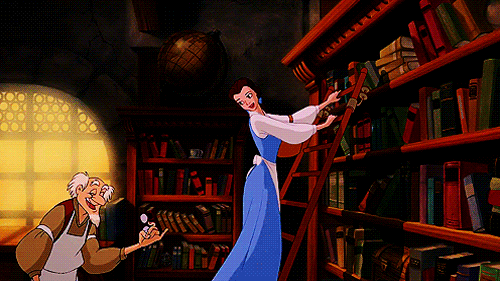 Hidden door
I've watched so many historical movies or spy movies where the characters find a
hidden door
by pulling a book-lever or there's
a door that matches the interior so well
, it is difficult to see at first. I'm leaning towards a door that matches the interior. In this case, the hidden door will double as a bookshelf. I couldn't find a picture of this, but how cool would it be to have the doorknob disguised a book? To open the door, one would have to pull the handle on the spine of the book.
Variety of seating options
When I read, I am always changing position. My foot will fall asleep, my arm will get numb. On average, I change reading positions at least 19 times during the time it takes to read one book. Therefore, I need a variety of seating options such as a comfy couch, an arm chair, a window seat and a desk chair.
Coffee table
I've always wanted a coffee table. Not just any old coffee table, I want a table with a glass top so you can make it your own. My friends have a huge table that showcases their bottle cap collection. With my coffee table, I would love to showcase a map to
Middle Earth
from Lord of the Rings.
View out of the window
Reading with noise doesn't bother me too much. However, I've noticed I read best when there is mostly quiet. My home library should face a gorgeous view, like an ocean or field, for inspiring thoughts and peaceful reading.
An accent wall of art prints and fan merchandise
Three of my walls are going to be covered in ceiling to floor bookshelves. The fourth wall is my accent wall filled with artwork from fandoms I absolutely adore. The wall will be colorful but organized.
Society6
,
Etsy
, and
Redbubble
are the best places to find amazing pieces.
EvieSeo
,
Bookworm Boutique
, and
The Bookish Dreams
are some of my favorite shops to buy bookish merchandise from.
Desk
My library would not be complete without a desk.
Hard wood floors with comfy rug
I think hard wood floors gives the space more character. With flooring like that, it gives you the options to get more creative with what kind of rugs you choose to have.
Floor heating system
South Korea spoiled me with their
under-the-floor heating system
, while I was living there. It is a system rigged with water pipes and when you turn up your water heater, it boils the water underneath the floor which makes your floor nice and toasty. Sometimes I like to read on the floor and during the winter months, it is not possible since it's so cold. However, with an under-the-floor heating system, I could read on the floor anytime I want.
Variety of lighting options
Just like my seating options, I always change what light I read from. On sunny days, I prefer to read with just the sun shining in the window. During rainy days, I always set a candle and read by my desk lamp. When I read at night, I tend to read with the ceiling light on. In my library, I will definitely have plenty of natural lighting, a desk lamp, candles and a ceiling light.
What does your dream home library look like?