Top Ten Favorite Too-Many-Feels Romances
Tuesday, February 14, 2017
Do you know that today is Valentine's Day? I actually hadn't even noticed. I'm usually on top of posting something cute and OTP related for the week but it never even crossed my mind. So instead of writing a post about Facebook statuses your favorite OTPs will be giving each other or some awesome love triangles, I'm giving you my favorite romances that definitely give me too many feels.


Top Ten Tuesday is created and hosted by
The Broke and the Bookish
. This week's topic is:
Top Ten Favorite Too-Many-Feels Romances
.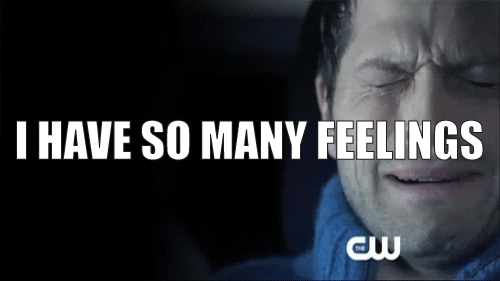 Fangirl
by
Rainbow Rowell
(9/10/13): A coming of age story with a romance that will have you begging for more. Levi is an unexpected favorite, accepting the good and bad of
Fangirl's
protagonist.
A Thousand Pieces of You
by
Claudia Gray
(11/4/14): A romance that spans across dimensions. They obviously belong together, don't they? Each dimension contains pieces (about a thousand of them, maybe) of their lives-- some together, some not. However, you will be routing for a happy ending in every single world.
Anna and the French Kiss
by
Stephanie Perkins
(12/2/10): This is one of my all-time favorite contemps. There's just something about a friend to romance that gives me some major feels. I will forever ship Anna and Etienne. It's pure magic with some drama sprinkled in.
Cruel Beauty
by
Rosamund Hodge
(1/28/14): She was born to kill her betrothed. So, why does he have to be so nice to her? And why does he have to be so evil, it seems, to the rest of the world? Can't we all just get along and save the world?
Blood Promise
by
Richelle Mead
(8/25/09): Before shipping OTPs were cool, Dimitri and Rose were meant to be. A forbidden romance just got way more complicated when Dimitri goes to the dark side. Rose sets out to kill him but finds herself in love with him still. This book requires several breaks so you can breathe through the feels.
The Distance Between Us
by
Kasie West
(7/2/13): At first, this looks like your common romance. It's ridden with cliches that make you swoon but West adds some fresh drama that makes you rethink. It'll most definitely be crushing you with the feels by the end.
Reawakened
by
Colleen Houck
(8/11/15): A relationship doomed from the start. After all, he is a walking-mummy who has to go back into his tomb some time. However, there's a sequel so their romance must survive, right? Right!?
Winter
by
Marissa Meyer
(11/10/15): It's the finale to The Lunar Chronicles, an epic series that has multiple ships where I have way too many feelings (well, never too many). Just the end of the series is enough for anyone to fall into a pile of feels and possibly never get up again.
Passenger
by
Alexandra Bracken
(1/5/16): Yes! A pirate who is such a gentleman and a violinist who has some major spunk. With constant lies and possible betrayal occurring, it's difficult to not fall for these two.
To All the Boys I've Loved Before
by
Jenny Han
(4/15/14): A pretend romance becomes a big deal when the obvious happens and they may be falling for each other. But I thought she liked the other guy. I thought her pretend- boyfriend was a jerk. I was wrong. Too many feelings.
Which books give you all the romance feels?