Top Ten Books I Wish Had More Sword Fights in Them
Tuesday, February 07, 2017
After closing the book and thinking about what to write in your review, don't you ever get that feeling that the characters should have clashed more swords? No? Just me. Sword fights are awesome, a great way to add some intense action sequences to the plot. Here's a list of all the books I think should have had more sword fights in them-- or sword fights in them at all.


Top Ten Tuesday is created and hosted by
The Broke and the Bookish
. This week's topic is:
Top Ten Books I Wish Had More/Less of ____ in Them.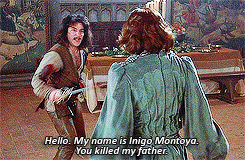 Magonia
by
Maria Dahvana Headley
(4/28/15): There are pirates and there is a fight. I want more.
Revolution
by
Jennifer Donnelly
(10/12/10): There's plenty of action with this time travel adventure. But more sword fights are definitely in order.
Blackhearts
by
Nicole Castroman
(2/9/16): I put this one on the list even though I haven't read it yet. Many people have said it is a retelling of a famous pirate but with limited pirates. Does that mean no sword fights? Every pirate book should have a least one good sword fight. I think it's required.
The Glittering Court
by
Richelle Mead
(4/5/16): This book has the entire premise that could hold a great sword fight. Yet, when the climax hits it is with guns and knives and just no. Instead of dragging people facedown into a nearby stream, it would have been much cooler to see some sword fights in the midst of all this drama.
Illuminae
by
Amie Kaufman
and
Jay Kristoff
(10/20/15): Sword fights in space. Need I say more?
Empire of Dust
by
Eleanor Herman
(6/28/16): There was a fantastic sword fight action sequence but Eleanor Herman is a master of writing action and weaving history into fiction. I would be so happy to see at least 5 more epic sword fights in her books, let's hope for that in the next book.
The Selection
by
Kiera Cass
(4/24/12): There is quite a bit of action in this series, but of another sort (ahem). Every time the rebels come to town, all the characters duck and cover. I say there is definite room to add an amazing sword fight into the mix of the
Bachelor
TV show.
A Thousand Pieces of You
by
Claudia Gray
(11/4/14): There is an action sequence where the countess is running away in the woods from gun shots. Imagine if the group of people were after her with bloody swords in hand. She couldn't outrun them forever. What would our dear Paul Markov do then?
Passenger
by
Alexandra Bracken
(1/5/16): We get a very small glimpse of mayhem in the beginning. Nicholas is a legal pirate, after all. Instead of small glimpse of fights on deck, I want sword fights of epic proportions.
Vampirates: Demons of the Ocean
by
Justin Somper
(10/4/06): Vampires + Pirates = Sword Fights Necessary
Which books were you hoping to have more sword fights?