Challenges of 2011
Thursday, January 06, 2011
This year, Gina and I are participating in some reading challenges! Challenges are awesome because it gives the challenge hoster and the participants a good opportunity to find new books for different genres and themes or re-connect with old favorites.

For 2011, I am participating in a couple of challenges;


Escape Between the Pages
is hosting a
Highlander Reading Challenge
. The goal is to read and review 20 sexy highlander novels in the year 2011. The books can be ones published in any year and be cross-overs with time travel, paranormal, and other themes. You can also cross read and review with other challenges.
Steampunkery & Book Reviews
is hosting a
Morbid Romantica
Challenge. The aim of this challenge is to pick a level of romantica, I'm shooting for Morbid, and see how many books from the 12 themes you have to read. Each month has a pre-assigned theme, but if you find it hard to find enough books, there are additional themes that you can use in place. January's theme is Nephilim.
The Book Junkies Bookshelf
is hosting a
Support Your Local Library
Challenge. Though Gina prefers to buy her books, I love going to the library to scrounge around for new books. Also, I work there... that's a perk when you can get your hands on the unreleased books, weeks early. I haven't settled on a sure-fire level yet, but I'm assuming it'll be the "Mega Size" level at 51+ books, since I'm there all the time raiding the shelves.
Gina is also doing a couple of challenges;
The Story Siren
is hosting a
Debut Author Challenge
. This challenge highlights the work of debut authors of 2011. The goal is two read 12 books, and Gina has already picked the books she plans to read. You can check out her picks on our
2011 Challenge Page
!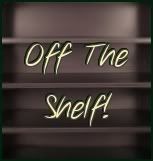 BA Reading Challenges
is hosting an
Off the Shelf!
reading challenge. This challenge is to read books you own, but never got a chance to get around to. Gina is going for the "Making a Dint" level with 30 unread books amassing her bookshelf.
Also, Gina and I are doing a just for fun challenge from
2 Read or Not 2 Read
. The challenge is to read a Harry Potter book each month of 2011 from January-July. Though we've both already read the series, it'll be fun to re-read it because it was such a good series.
If you want to see some of the books we've already picked out for the challenges, head on over to our
2011 Challenge
page.
What challenges are you doing this year?